Fasman Yeshiva gets first Friday win in school history; defeats Katz STORM 50-45!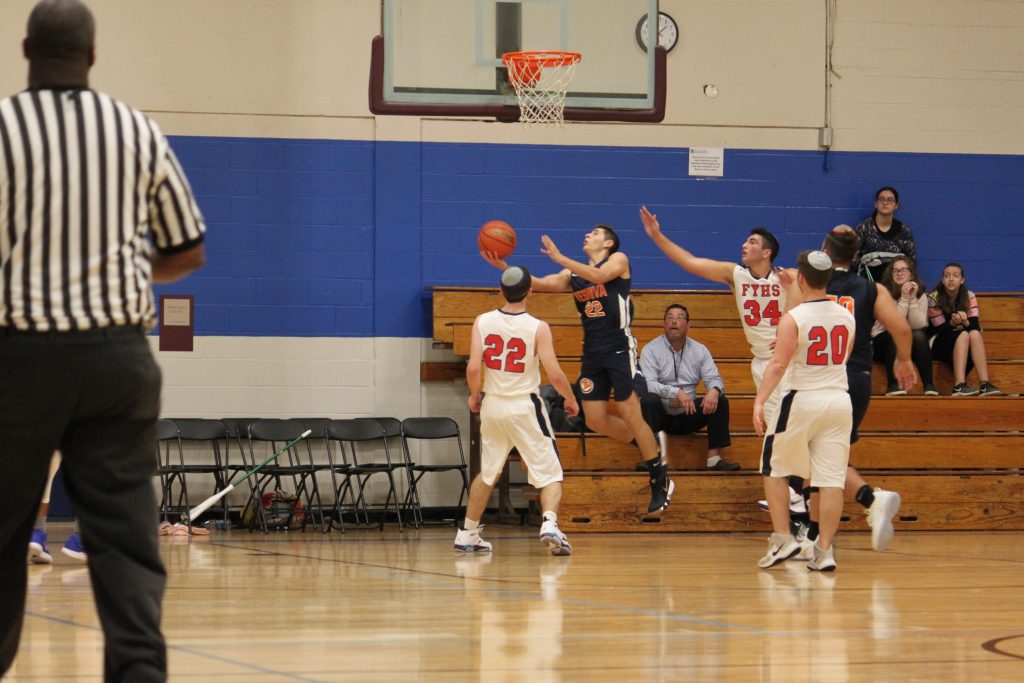 In a tier II matchup on Friday afternoon, the Fasman Yeshiva faced the Katz Yeshiva Storm. Fasman jumped out to a quick lead with a three from Akiva Lafer. Yaakov Mendelberg quickly added on to that Fasman lead with a contested layup. The Storm were looking for some momentum, and oh boy, did they find it. Noah Namann hit a much needed three for the Storm to make it a two-point game. The teams went back and forth for around two minutes, unable to convert until Fasman's Doni Stein hit a three to give Fasman back their five-point lead. That wouldn't hold for long, though, as Adam Ditchek hit a jumper for the Storm to make it an 8-5 Fasman lead. Abie Betesh shortened the lead even more by hitting a layup, but Fasman came right back and hit a three by Ari Schuman. However, Betesh came right back down to hit another layup to make it an 11-9 Fasman lead. That score would hold strong until the end of the quarter.
The second quarter began with a free throw from Fasman's Doni Miretzky. The teams continued to battle, but they still didn't score for a whole three minutes. The Storm finally broke the ice in the second quarter when Abie Betesh hit back to back layups. Fasman came back and got a midrange jumper from Doi Stein to take back the lead. Doni Miretzky added on two free throws and Ami Mashgiach hit a layup to make it a five-point Fasman lead. However, the Storm came down and hit three consecutive layups to make it a 19-18 Storm lead at the half.
The third quarter began with Storm's Brandon Munter hitting an easy fast-break layup. Doni Miretzky came right back in response for Fasman by hitting a pair of free throws. However, in response to that, David Kahane hit a free throw of his own for Katz. Fasman jumped right back, though, and got a quick and easy layup from Yaakov Mendelsberg. Abie Betesh came and hit another two free throws for Katz, who were leading 24-22. Fasman then responded with a clutch three from Akiva Lafer. However, that lead did not last long. Immediately, Brandon Lasko hit a layup for the Storm, but Doni Miretzky then responded with a quick and easy three to put Fasman up 28-26. The Storm countered with a free throw from Jacob Shulman. Fasman continued their fire from three, hitting another one, this time from Doi Stein. This gave Fasman an all-too uncomfortable four-point lead with two minutes remaining. That lead would soon grow after Doni Miretzky's quick layup. Fasman's coach got T'eed up, however, and Brandon Munter hit his free throw. Dovid Taxer added to Fasman's ever-growing lead by hitting a layup and Ari Shulman hit a buzzer-beating three to give Fasman a 38-28 lead at the end of the quarter.
The fourth quarter began with Fasman hitting everything. Ami Mashgiach hit a jumper to push the lead to twelve. Brandon Munter hit a quick pair of free throws to cut the Storm's deficit to ten. Adi Rosenstein hit another free throw for Katz to make it a 40-31 Fasman lead. Jacob Shulman cut the lead to even less by hitting a layup for the Storm. A game that once seemed out of reach for Katz quickly was attainable. However, Akiva Lafer from Fasman had other ideas. He hit a pair of free throws to push the lead back to nine. Adi Rosenstein responded by matching those free throws for Katz to make it just a seven-point game. Abie Betesh hit a free throw to make it just a six-point game. Katz was mounting a comeback with five minutes remaining. That was not on Fasman's to-do list, though. Yaakov Mendelsburg hit a free throw and so did Ami Mashgiach to push their lead back to eight. Storm's road to a win seemed like a very long one. That length seemed to get further extended after Brandon Munter fouled out. However, the Storm kept on fighting. Jacob Shulman hit a pair of free throws to make it a 44-38 Fasman lead. Fasman hit a free throw to push their lead back to seven. Abie Betesh from Katz quickly responded with a three to make it just a four-point game. Noah Mamann then hit an and-1 layup and free throw to make it just a one-point game! Fasman's Akiva Lafer hit two free throws to push it to a three-point game. Ami Mashgiach then hit two free throws for Fasman to make it a two-possession deficit for Katz. With five seconds left, a win for Katz seemed nearly impossible after another Fasman free throw was made to make it a 50-45 Fasman lead. Fasman ended up winning with that final score.