Yeshiva Univ. Head Men's Basketball Coach Elliott Steinmetz To Attend Invitational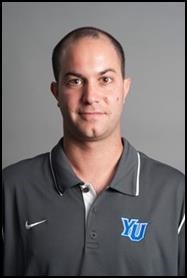 Yeshiva University's head men's basketball coach, Elliot Steinmetz, will once again attend the Invitational representing YU in its continued lead partnership with the annual event.
Steinmetz, a 2002 graduate of YU's Sy Syms School of Business who lettered on YU's basketball team for three seasons from 1999-02, is responsible for overseeing all aspects of the men's basketball program while ensuring the academic success of its student-athletes.
He has served with distinction as head coach of the varsity basketball team at Northshore Hebrew Academy High School and of the gold medal-winning United States 18 and Under Boys Basketball Team for the Maccabiah Games in Israel.
In 2017-18, the Maccabees captured the first Skyline championship and NCAA tournament bid in team history. During the season, Yeshiva won eight straight games, which is the longest unbeaten streak the program has had since joining the NCAA in the 1956-57 season. The Yeshiva men's basketball team set a program record for most wins in a season with 18. Steinmetz was voted the Hero Sports Division III Men's Basketball Coach of the Year. Under his leadership, the men's basketball team earned the NABC Team Academic Excellence Award.
Under Steinmetz's tenure, five players were named Skyline First Team All-Conference (Benji Ritholtz in 2014-15, Shelby Rosenberg in 2014-15 and 2015-16, Judah Cohen in 2016-17, Simcha Halpert in 2017-18, and Bar Alluf in 2017-18), plus one Skyline Rookie of the Year (Simcha Halpert in 2016-17). Ritholtz and Rosenberg each scored over 1,000 points in their careers. In 2017-18, Gabriel Leifer was named to the Skyline All-Conference second team.
Coach Steinmetz will be on hand for all of the Invitational games and will speak to the players on Shabbos.
Over 250 Brackets have already been entered.
Don't forget to enter your bracket in the BRACKET-Challenge at: cooperinvitational.com/bracketchallenge