MDY Warriors repeat as Cooper Champs! defeat Shaare Torah STARS 68-49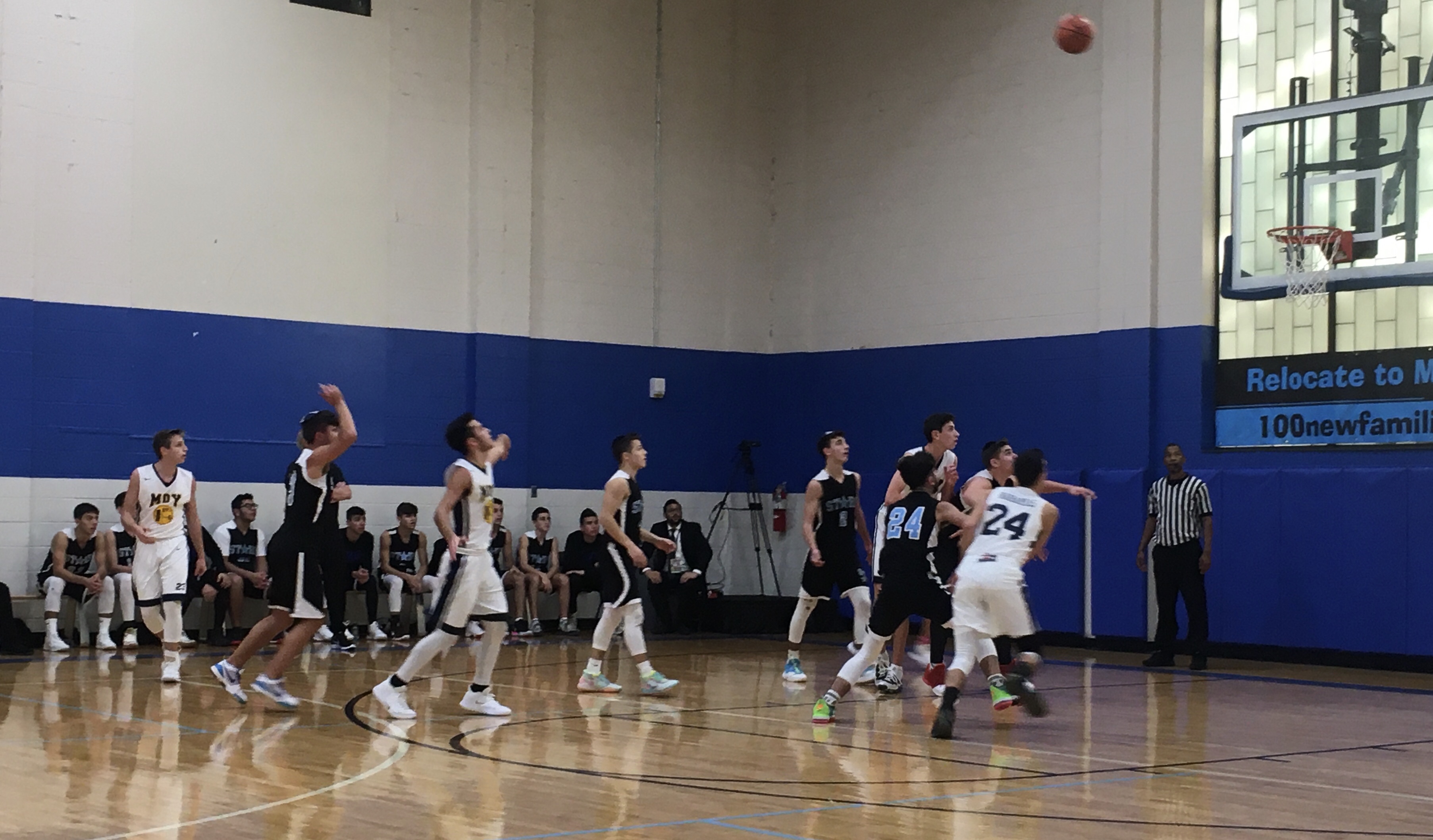 The stage was set. The matchups were unreal. Jackie Haber V Albert Nsiri. Freddy Swaid V Teddy Cohen. The boys of Brooklyn would be battling it out on the biggest of stages and only one team would walk away victorious. The number one seeded Magen David Yeshiva Warriors seek to win their second straight invitational as the newbies, the Shaarei Torah Stars, look to win their first title. It all comes down to this.
Ezra Beyda would open up the scoring for the Stars with a smooth layup. Eddie Swaid would add on to that with a free throw to make it an early 3-0 lead for the Stars. Albert Nsiri, the Warriors' star point guard, came back with a pair of free throws, yet was soon matched by another Beyda layup for Shaarei. Nsiri made yet another free throw to get MDY a little closer. With the score 5-3, Teddy Cohen tied the game up with a beautiful floater in traffic. Eli Nahamias put the Warriors on top with a pair of free throws to make it 7-5. Shlomie Anbeh would answer right back with a three to put the Stars back on top. Antebi tied up the game shortly thereafter and the score was tied. However, that tie game would not stay for long as the tournament's leading scorer, Freddy Swaid, hit a gorgeous three. Nsiri would not let his team stay down as he hit another pair of free throws. The quarter would end without a clear favorite with the score at a close 11-10.
In the second quarter, the Warriors intense defense, which included a faceguard of Freddy Swaid, lead to a quick layup from Nahamias, yet the Stars would answer soon with a three from Louz. Eliiot Dweck from the Warriors would respond promptly with a three to make the score 15-14. Setton then hit a free throw to tie the game up for the Stars. Freddy Louz would hit another three to put the Stars up by three. Nsiri, being his incredible self, would then put himself in the path of a Stars defender, put in a layup, got the foul call, and tied up the game. Louz then hit his third three pointer, yet Dweck came back to hit a layup. These Warriors just would not give up. Freddy Swaid would then hit a free throw and Beyda would hit a layup to make it 24-20. Nsiri would respond quickly with a layup to shorten the deficit to two. Louz then hit a pair of free throws to make it a four point Shaarei lead. Dweck would cut their lead to one with a three which made the score 26-25. Anbeh would hit a free throw to push the lead back to two. T-Co, the Warriors' number two, hit a three and Nsiri would hit another free throw and a three to put them up 32-27. Nahamias would add to the Warrior lead with a smooth layup in transition to further extend their lead. Anbeh would strike back a pair of free throws to cut the deficit back to five. The momentum was with the Warriors as the half closed with the score at 34-29, MDY.
The second half would begin with a pair of free throws from big man Jacob Zaccai. That would soon be matched by another Ezra Beyda layup. Nsiri would score his 15th point with a free throw that would put the Warriors up by six. Nsiri would tack on some more with a three to make it a nine-point game. Louz would come back with an offensive rebound and a bucket to cut MDY's lead to seven. Dweck would hit a free throw and Antebi would hit a three to push the lead back to eleven and make the score 44-33. Jackie Haber, possibly the best player in the tournament, had been on the bench for most of the first half due to early foul trouble. He would finally score his first point with a free throw to make it 44-34. T-Co would answer with four free throws to make the Warrior lead up to 14. Anbeh, who has been playing hard all game long, hit a layup, yet was matched quickly by MDY's Eli Nahamias. Nahamias would hit a pair of free throws and a layup to force Shaarei to call a timeout with the score at 54-36. With tensions high, both teams received technical fouls that offset. Dweck hit another layup to make the Warrior lead 20. The Stars had absolutely no answer and the game was quickly running away from them. Nsiri would continue to push further with his 20th point on the day with a pair of free throws. Shrem would hit a pair of free throws as Jackie Haber would foul out of the game. Thus, the third quarter came to a close, with one team overjoyed and another both disheartened and on the verge of tears.
The fourth quarter began with another Dweck free to make the score 61-39. Anbeh would get his team back on the board with a free throw. Nsiri, being his amazing self, hit another two free throws. The show Nsiri was putting on could only be matched by his 38 point performance in last year's championship. Ezra Beyda would not give up as his hit a layup to make it 63-42, MDY. Manopla, Chabbot, and Beda would each hit a free throw to push the lead to 24 as the Shaarei bench would enter the game. Mayer Arkalji would hit a three and Hayim would hit a jumper for the Stars, yet Manopla would hit a jumper of his own to make the score 68-47. The Stars' Balanka would hit two free throws, yet the game would end with the score 68-49. Magen David becomes the second team in tournament history to win back-to-back championships and Albert Nsiri would finish the game with 22 points.