MDY Warriors Slay DRS Wildcats, 58-55 Take Home 3rd Place in Invitational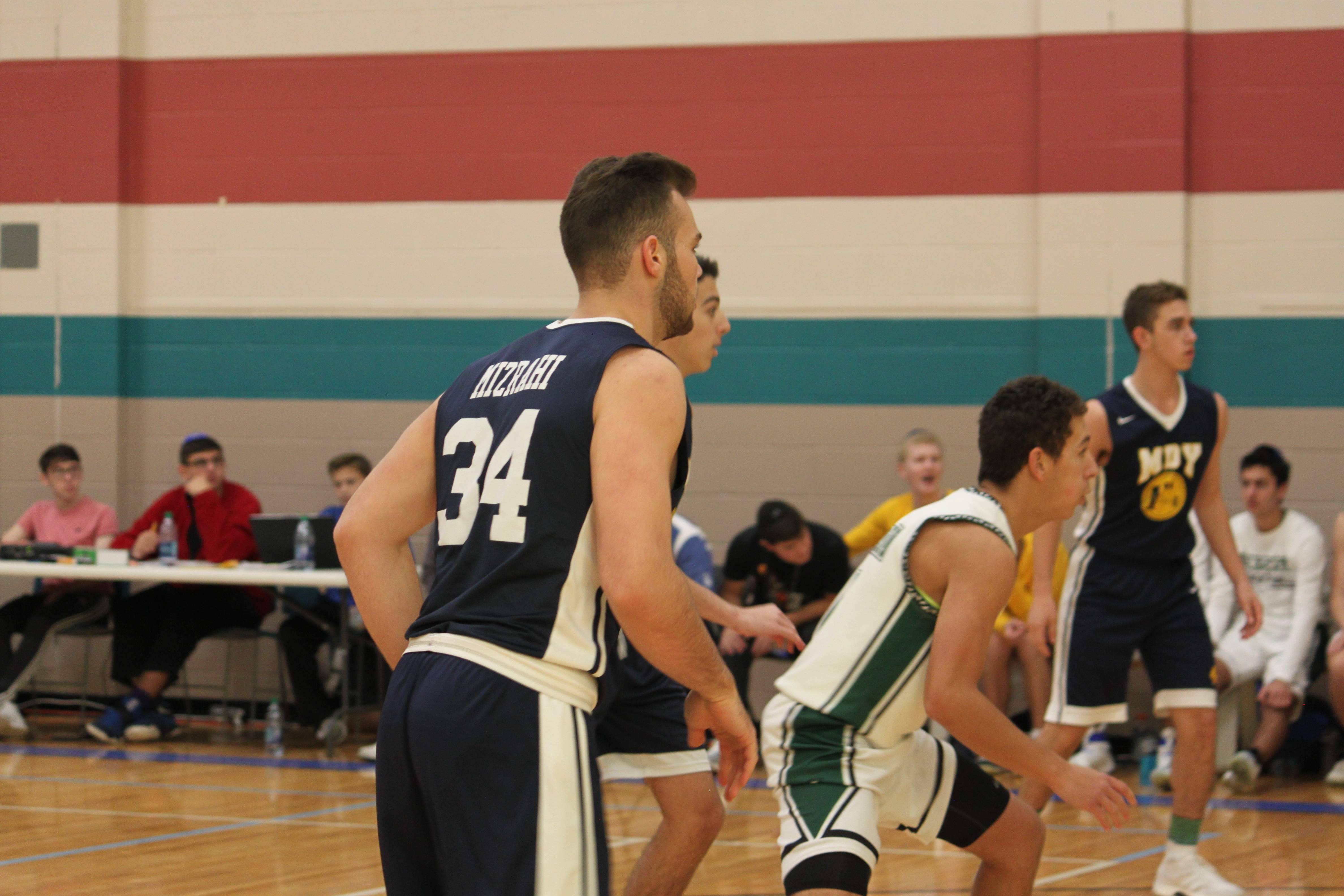 In the third place game in Tier I the DRS Wildcats took on the Magen David Warriors. The game started off with a beautiful three by Amiel Kerstein, who then hit two foul shots on the ensuing play. Gideon Valenski and Gavriel Kahn hit a pair of layups to put DRS up by nine only three minutes into the game. After a few back and forth drives, Amiel Kerstein hit a three yet again to put DRS up by twelve. The Warriors responded with a three of their own from Abraham Jemal. Gideon Valenski added to the score once again by hitting two free throws and a layup. The Warriors' Joe Dayan responded by knocking down a pair of free throws of his own to make the score 16-5. Valenski then hit another free throw to push the DRS lead back to twelve. The quarter would end this way with the score at 17-5.
In the second quarter DRS and MDY went back and forth early, unable to score, until Steven Mizrahi hit a free throw to cut down the lead to 11. Josh Hirt responded with a three to make it a fourteen point game. Big man Alon Jakubowitz hit a layup to force a sixteen point lead. Teddy Shamma was there to respond for the Warriors with a three. How would DRS respond? By having Gideon Valenski go up, hit a layup, and make his and one shot. MDY started inching back as Teddy Shamma hit yet another three and Steven Mizrahi hit a jumper to cut the lead to 11. The Wildcats responded, when Gideon hit a two point play of his own, but the Warriors kept it close as Mizrahi came back and hit two free throws. Gavriel Kahn also had not one, but two lane violations, which took took two potential points off the board for DRS. The Wildcats, Amiel Kerstein had two more free throws while MDY's Albert Nsiri, one of the better three point shooters in this year's tournament, nailed a three. The half ended with a sizeable lead for DRS, 29-20 over the Warriors.
The third quarter began with two smooth layups from the Warriors' Ray Betesh. DRS responded as Gideon Valenski hit two layups of his own to push the lead back to nine. MDY came roaring back, as Steven Mizrahi responded with a layup and a free throw to push the lead down to six, and Michael Natkin and Steven Mizrahi chipped away further, hitting two layups to make the lead just two. DRS was forced to call a timeout. They came out of the timeout with renewed focus as Gideon Valenski hit a layup and an and one and  Gideon nailed a three which gave him at 22 points for the night. After a timeout by Magen David, Teddy Shamma came out to play by hitting a three. The Warriors, Teddy Shama got fouled on a three point play, and quickly hit the first two free throws. On the third, MDY's Steven Mizrahi got the rebound on the third shot and put it right back up and in to make it a one point game. The Wildcats, Gideon responded quickly with a layup to end the quarter with a three point lead. Gideon Valenski was insane in the quarter scoring 12 and having all of DRS' points.
In the fourth qaurter the Warriors came out fighting with Albert Nsiri hitting another three. DRS' Amiel Kerstein would respond with a three of his own to put the lead back in the hands of DRS. The Warriors would once again hit a three to tie it up, but this time it was Ray Betesh. Gideon Valenski came down to hit a layup, but the Warriors' Albert Nsiri hit a three to take their first lead and MDY pressed further as Teddy Shamma hit two more layups to take a five point lead. After DRS caled a timeout, the Warriors Steven Mizrahi hit a layup and a free throw to make the lead eleven. It looked like the fight for the Big Apple was coming to a close with the Warriors on top. Still, DRS kept the battle up as Josh Hirt and Gideon Valenski each hit a layup to make the score 57- 50, and Valenski followed with a layup of his own to make their lead only four, but with 9.7 seconds left, a loss looked imminent for the Wildcats. Amiel Kerstein hit a three for his teams last points, but the final score would end up being 58-55 – Warriors win.