Valley Torah Wolfpack Tame CESJDS Lions, 64-50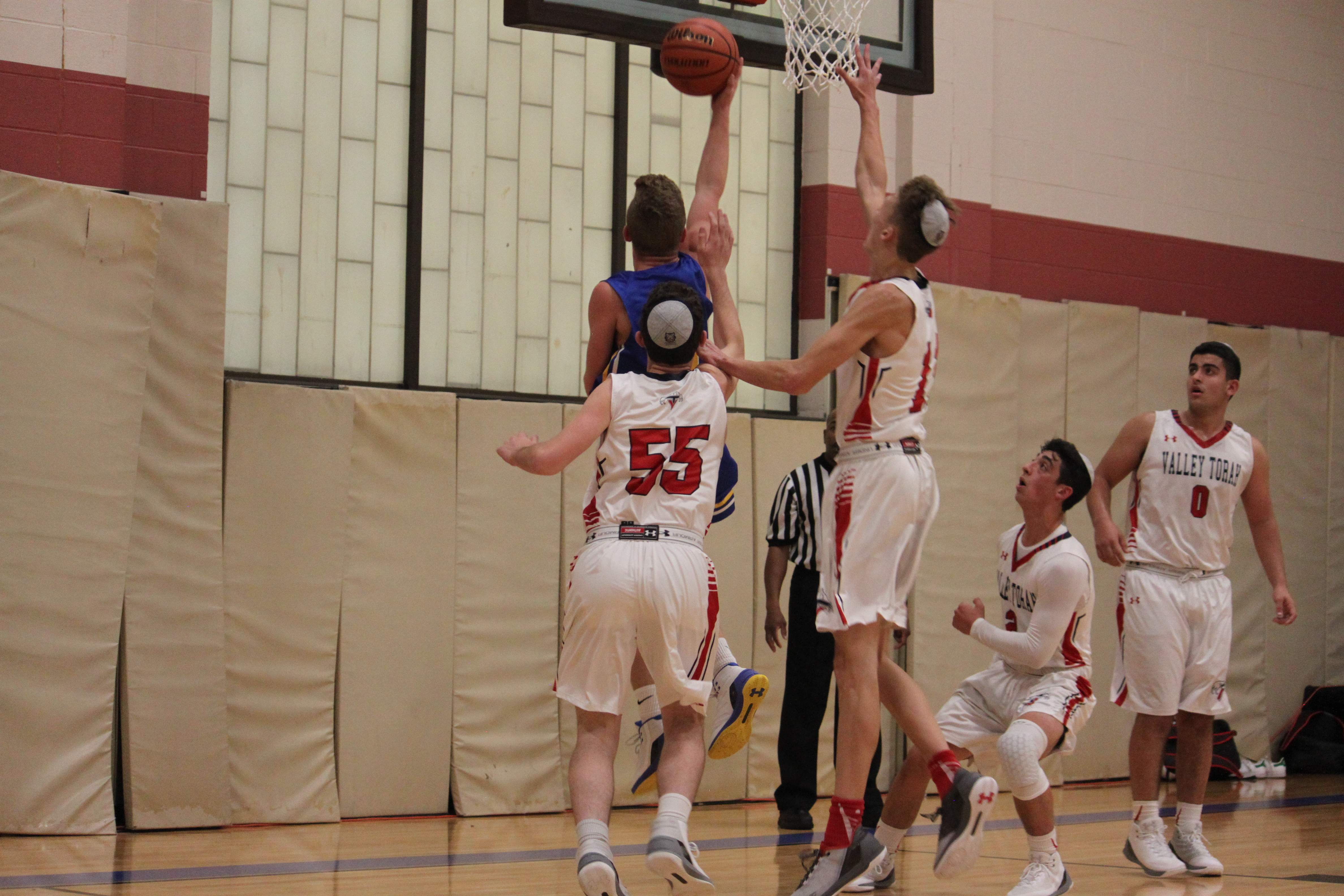 The last game of the day on Court 1 featured #2 seed Valley Torah Wolfpack and the #15 seed CESJDS Lions. Both teams came out with incredible speed and aggressiveness. Valley Torah was the higher seed and the bigger team, but the Lions shocked the crowd with an impressive start in which they took an early lead. Valley Torah fought right back, with the leadership of star Ryan Turrel, who put up 10 points in the first quarter alone. In a quarter full of excellent defense from both teams ended with the Wolfpack ahead 16-13.
The second quarter was just as intense and competitive. Both teams hustled on defense and battled hard for each rebound.  Daniel Offer led the Lions, as they pushed the ball and got buckets inside the paint, and Turrell led the Wolfpack with ferocious defense and explosive offensive plays. The Lions and Wolfpack were neck to neck all quarter, but the Wolfpack pulled ahead at the end, ending the half with a 28-22 lead.
In the third quarter, the Wolfpack maintained their lead and tried to prove they were deserving of the #2 seed in the tournament. They swarmed the Lions on defense, and attacked the rim on the offensive end, tiring out the Lions who could no longer match their intensity and speed. The quarter ended with the Wolfpack leading 42-32.
The fourth quarter began with a three-pointer from the Lions, which set the tone for the quarter. They regained their momentum early on in the quarter, and with five and a half minutes left in the game, they were just one point behind the #2 seed Wolfpack and were in position to pull off the biggest upset in Cooper Invitational history.  However, the Wolfpack were not ready to lose this one, and they came right back with an impressive stretch which put them back in control of the game. The Wolfpack pulled it out the end, winning 64-50. The leading scorer of the game was Ryan Turrel who put up 23 points for Valley Torah, while the Lions were led by Daniel Offer with 15 points. The Wolfpack move on and play HAFTR for a chance to play in the final four, while the Lions find themselves in unfamiliar territory on Friday – Tier 2.